The project to construct the replica ship Hermione in Rochefort, France, was one of the main inspirations for the Lenox Project.
It is thrilling to see her now in the final stages of preparing to set off on her first voyage – across the Atlantic to the USA! After two decades of construction she will set sail on 18th April to cross the Atlantic and visit 11 ports on the eastern seabord of the USA.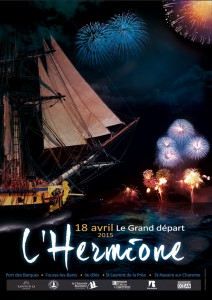 The journey will start from the mouth of the River Charente, in Port des Barques, where Lafayette boarded on March 10th, 1780. The transatlantic crossing is expected to take 27 days in total, before making landfall at Yorktown, Virginia.
As the Hermione moves up the Eastern seaboard, she will be accompanied by a range of pier side activities. These include in some ports a traveling exhibition and a heritage village that will be accessible to the public. The Hermione Voyage 2015 is part of an expansive outreach programme with cultural events, exhibitions, and educational programmes that celebrate the trip and mark its progress.
The 'grand depart' takes place on 18th April and you can follow the ship's progress on the website and on the Hermione Facebook page. 
Please follow and like us: