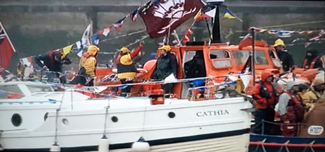 Julian Kingston, director of The Lenox Project, took part in the Thames Jubilee Pageant on 3rd June. His boat, Cathia, processed in the Lifeboat Section within the larger category of "Historic & Service" in the middle of the 1000-strong flotilla (and terrible weather!). This picture, taken from BBC coverage, shows Cathia cruising past a large lifeboat crew at Tower Bridge.
Twelve years ago, Julian – a boat builder by trade –
rescued the Cathia from destruction and brought it back to his moorings in Deptford Creek. With the hull in fine condition, Julian set about rebuilding the main cabin and cockpit, and most recently he has been restoring the fore cabin and galley area to get her into shape for the pageant.
Cathia was originally a lifeboat, and like many boats of its age (it was built in 1924), it was converted to a motor cruiser in the 40s. "Adam Hart-Davies wrote a book on how to convert working boats into motor cruisers and leisure boats," says Julian. "Standard conversions of ships like lifeboats were very cheap to do. Quite a few working boats were rehabilitated at around that time by amateur enthusiasts for whom sailing and motor cruising would otherwise have been financially prohibitive. But there are very few boats like this remaining, which makes Cathia special enough to be included in the flotilla."
Please follow and like us: