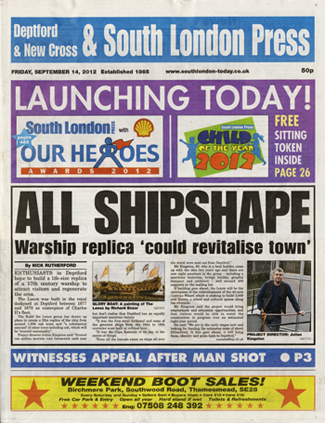 The Lenox Project was featured on the front page of the South London Press, Friday 14th September. The project was also covered in some detail this week in a great piece by Laurence Dodds for East London Lines. 
Newsblog The Londonist and local blog Transpontinealso covered the story.Nick Rutherford wrote in the SLP:Enthusiasts in Deptford hope to build a life-size replica of a 17th century warship to attract visitors and regenerate the area.The Lenox was built in the royal dockyard at Deptford between 1677 and 1678 as centrepiece of Charles II's fleet.
The Build The Lenox group has drawn up plans to create a 52m replica of the ship from around 1,900 oak trees and "a substantial amount" of other trees including ash, which will be "sourced sustainably".
Project director Julian Kingston said: "Around one million tourists visit Greenwich each year but don't realise that Deptford has an equally important maritime history.
"It was the first royal dockyard and some of the greatest ships from the 16th to 19th centuries were built or refitted here. It was the Cape Kennedy of its day, at the centre of things. Even all the biscuits eaten on ships all over the world were sent out from Deptford."
Mr Kingston, 60, who is a boat builder, came up with the idea two years ago and there are now eight members in the group – including a maritime historian, bridge builder, graphic designer and architect – and around 400 supporters on the mailing list.
If building goes ahead, the Lenox will be the centrepiece of the redevelopment of the 42-acre Convoys Wharf, which is seeking to build 3,500 new homes, a school and cultural spaces along the riverside.
Mr Kingston said the project would bring employment and education opportunities, and that visitors would be able to watch the construction in progress over an estimated eight-year period. He said: "We are in the early stages now and looking for funding (he estimates costs of about £23m). If this goes ahead, it will bring focus, identity and pride back to Deptford.
Please follow and like us: