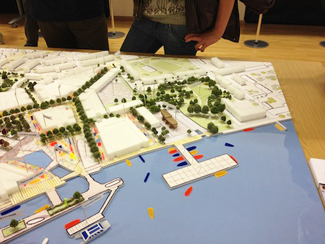 On 14 & 16 July, developer Hutchison Whampoa and its masterplanners Terry Farrell & Partners held a public exhibition at the Deptford Lounge to present ideas and proposals for the new planning application it intends to submit for Convoys Wharf later this year.Our proposal to build a replica of the restoration warship Lenox was represented on the groundscape plan by a little wooden boat and flag. However the masterplanners have suggested that the project should be housed on the working wharf at the west end of the site.There are several major problems with this.Firstly the fact that if the ship were built in this location it could not be launched in any straightforward or technically-proven manner. This part of the site has no slipway or dock and any boat built here would have to be lifted into the water. In order to do this, the structure of the vessel would have to be adapted to incorporate special lifting points or have extra strengthening built in to allow this to be done safely. It would entail additional analysis and the services of a marine architect, and it would create extra risk for the project as a whole.
If the boat were to be built in a dry dock (such as the one at the east end of the site) or on a slipway (such as the two in the Olympia building) it could be launched in the traditional tried and tested manner, which its original design allowed for. Since the masterplan did not offer any proposed use for the protected Olympia building, we respectfully suggest this as a no-brainer.
Secondly the project needs to attract sufficient visitors to be financially viable. We believe that the presence of the National Maritime Museum and the Cutty Sark in Greenwich will aid us greatly in doing so, but we feel strongly that the project needs to be as close to Greenwich as possible in order to make it successful.
Thirdly, we strongly support the creation of a proper working wharf which we believe could offer genuine additional employment opportunities for the area. It would also be appropriate to consider creating a marine enterprise zone on this land, to encourage the establishment of businesses that could not only support the Lenox project, but could benefit from its high profile.Previous arguments that the remaining dockyard structures were not able to be uncovered because they were at risk of degradation have been dispelled by the archaeological investigations. Duncan Hawkins, who led the archaeological excavation, had no objection to the reopening of the great basin, if it were to be lined.Several weeks ago, the Lenox Project supplied additional information to Farrell's on request, highlighting these points and also a number of other benefits and considerations material to the project and its proposed site. Download and read this document here.
Also read more at www.deptfordis.org.uk
See also news of Farrell's appointment as new masterplanners (March 2012).