A new phase begins for community groups The Lenox Project and Sayes Court Garden, with the signing of the Section 106 agreement that forms part of the Convoys Wharf planning application. Developer Hutchison Whampoa can now begin construction on the site of the former Deptford Dockyard.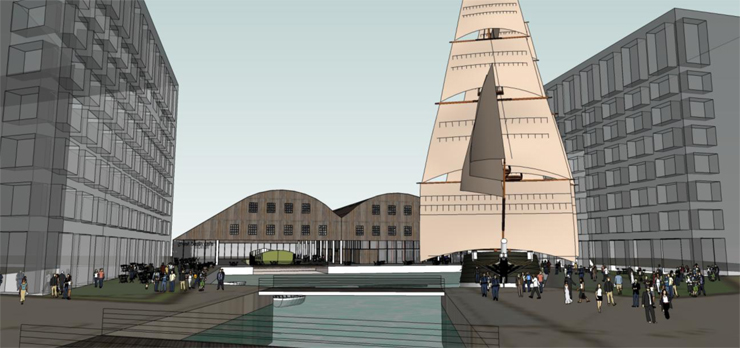 The Lenox Project must now await the outcome of a feasibility study that will assess four options for the Lenox Project's presence on the site – two in the Olympia Building and two on the Safeguarded Wharf – and will rank them accordingly.
Both the Lenox Project and Sayes Court Garden must bid for funding from the Community Project Contribution fund to assist the preparation of their business plans. These must be approved by the developer and Lewisham Council before the projects can begin the process of negotiating leases for the site.
We acknowledge the efforts that have been made on our behalf by planning officers from the Greater London Authority and Lewisham Council, however we continue to have reservations about the future viability of our project under the terms that are proposed.
Throughout the negotiation process we put considerable effort into trying to persuade the GLA to extend the scope of the feasibility study to include the whole site, rather than focussing purely on two options, as we believed the restricted brief did not accord with the Mayor's intention when he imposed the condition. In the GLA planning report that was published alongside the final Section 106 agreement, the Mayor has confirmed that the terms as drafted do accord with his intentions, and we are no longer in a position to pursue this matter.
As a result of negotiations by the GLA, the lease terms that the developer is required to offer the Lenox Project have been marginally improved, but still fail to include any obligation to provide us with a secured long-term presence on the site.
It is entirely at the discretion of the developer whether the Lenox Project will be allowed to remain on the site once the ship has been built.
The matter of long-term uncertainty is still a serious issue for the viability of the Lenox Project.
Now that the Section 106 has been concluded, and having sought legal advice, we believe that the most productive way forward for us is to continue to make every effort to engage in a positive manner with the owner, the GLA and Lewisham Council to find a solution that will enable our project to succeed, if one exists within the limitations that have been imposed.
We await the outcome of the feasibility study, at which point we will make a decision on how to proceed.
For more information please see the documents that are linked below:
Signed 106 agreement
Clauses relating to the Lenox Project (page 149)
Clauses relating to The John Evelyn Centre and Sayes Court Garden (page 154).
Feasibility study scope Annex 4 (page 163)
Lease terms for Lenox Project Annex 5 (page 171)
Lease terms for John Evelyn Centre Annex 6 (page 174)
GLA planning report on the obligations secured on behalf of The Lenox Project and Sayes Court Garden
Please follow and like us: