Lenox Project historian and 17th century shipbuilding expert Richard Endsor has published a new book.
Inspired by the recent discovery of mathematically-calculated digital plans for a fourth-rate ship by the Deptford master shipwright, John Shish, The Master Shipwright's Secrets is an illustrated history of Restoration shipbuilding focused on the Tyger, one of the smaller but powerful two-deck warships of the period. It examines the proceedings of King Charles II in deciding the types of ship he wanted and his relationship with his master shipwrights.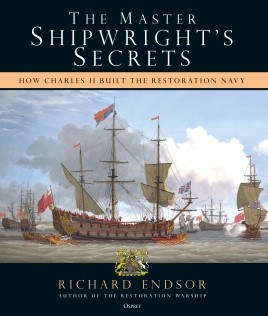 This fascinating book reveals the many secrets of Charles II's shipwrights through an analysis of John Shish's plans for the Tyger, revealing innovative practical calculations which differ significantly from the few contemporary treatises on the subject and the complicated process of constructing the moulds necessary to make the ship's frame. All the other duties performed by the master shipwrights, such as repairing ships, controlling their men and keeping up with the latest inventions are also discussed in detail.
The Master Shipwright's Secrets is replete with beautiful and detailed illustrations of the construction of the Tyger and explores both its complicated history and its complex rebuilding, complete with deck plans, internal sections, and large-scale external shaded drawings. The title also explores associated ships, including another fourth-rate ship, the Mordaunt, which was purchased into the Navy at the time and underwent a dimensional survey by John Shish. A rare contemporary section drawing of another fourth-rate English ship and constructional drawings of Shish's later fourth-rate ship, St Albans, are also included.
The book is for sale direct from Osprey Publishing as a hardback or ebook via this link https://ospreypublishing.com/the-warship-tyger
You can also see what's inside the book in this preview.
Please follow and like us: