Kids and parents alike were fascinated by the restored Saker cannon on show at the Twinkle Park festival last weekend, right next to the Convoys Wharf site.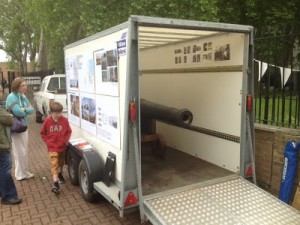 The cannon was brought to the festival by the Lenox Project as a way of raising awareness about the project and also giving local people a chance to find out about the Convoys Wharf redevelopment proposals and talk about the impact it will have on them.
The cannon, which has been identified as a 'short' naval Saker of English manufacture, was believed to have been cast some time between 1620 and 1630, some 40 years before the Lenox was launched from Deptford Dockyard.
It was in a sorry state when it was first discovered by a scrap merchant clearing a riverside site in south east London, and has been lovingly restored by Lenox Project founder Julian Kingston.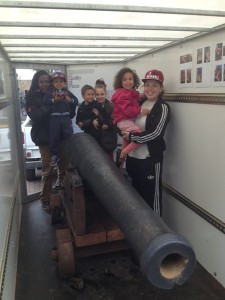 Julian cleaned the corrosion off the shaft, removed the oversize cannon ball which was jammed into the end, and replaced the trunnions and button with replica pieces turned in wrought iron.
The replica wooden carriage was built using the dimensions of an original carriage in Windsor Castle, which carries a 'long' saker cannon; Julian built the carriage out of elm and used traditional smithing crafts to forge and shape the wrought iron rings and other components.
Kids were fascinated by the cannon and the story of its restoration, and it proved a talking point for visitors as well as a popular photo opportunity!
The Lenox Project is planning to take the cannon out to schools and youth groups to continue raising awareness. If you would like to know more, please contact info@buildthelenox.org
Please follow and like us: