Two days of Open House passed rapidly at the Master Shipwrights House in Deptford, with the estimated 1200-1500 visitors enjoying the good weather, admiring the house, and learning a lot more about the Lenox Project and Deptford's royal dockyard. It was fantastic to talk to so many people who lived close by, and to really feel the level of local support for our project.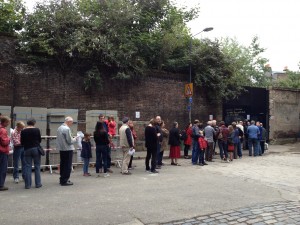 Both days began with a queue – once the gates were open visitors were able to wander freely through the grounds and the house, and enjoy the ambiance created by the owners and the participating organisations and artists. We hope that it seemed to have been created effortlessly – in truth, of course, a lot of sweat and tears went into getting it right!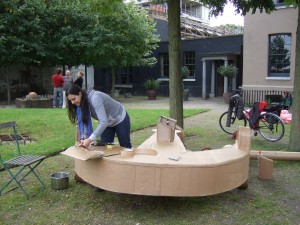 Before the open day, there was plenty of preparation. Laura X Carle had to reassemble her cardboard anchor, which took pride of place in front of the house when it was completed. As dusk fell each night, it was covered with plastic sheeting to protect it from rain – but none was forthcoming. You may see the anchor again soon on the high street – the cardboard one, that is.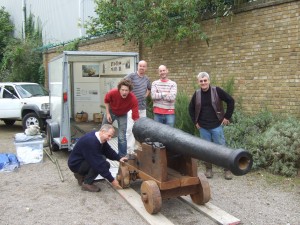 Meanwhile our restored Saker cannon came out of the trailer for once, to be admired, patted and climbed on for the whole weekend. It pointed out to the river solemnly, keeping guard over the water for several days.
Early on the Saturday morning, we got some media coverage on BBC Radio London, with one of the Lenox team going to Broadcasting House at 7am to be interviewed live – the link is in the previous post, although it will only be available until the end of the day on Friday.
Inside the house we set up Richard Endsor's model, paintings and drawings of the Lenox, and we also had ships carver Andy Peters present, who was talking about his work on other replica ships such as the Hermione.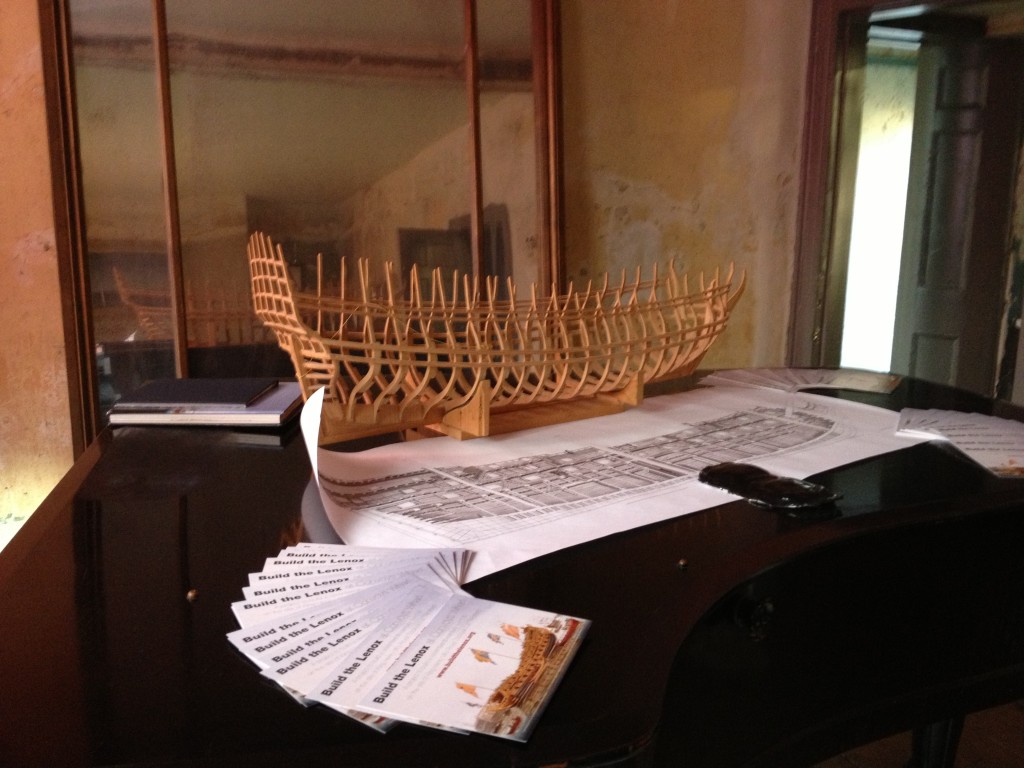 Under the lime trees we set up our stall to tell visitors about the project, and to sell our merchandise.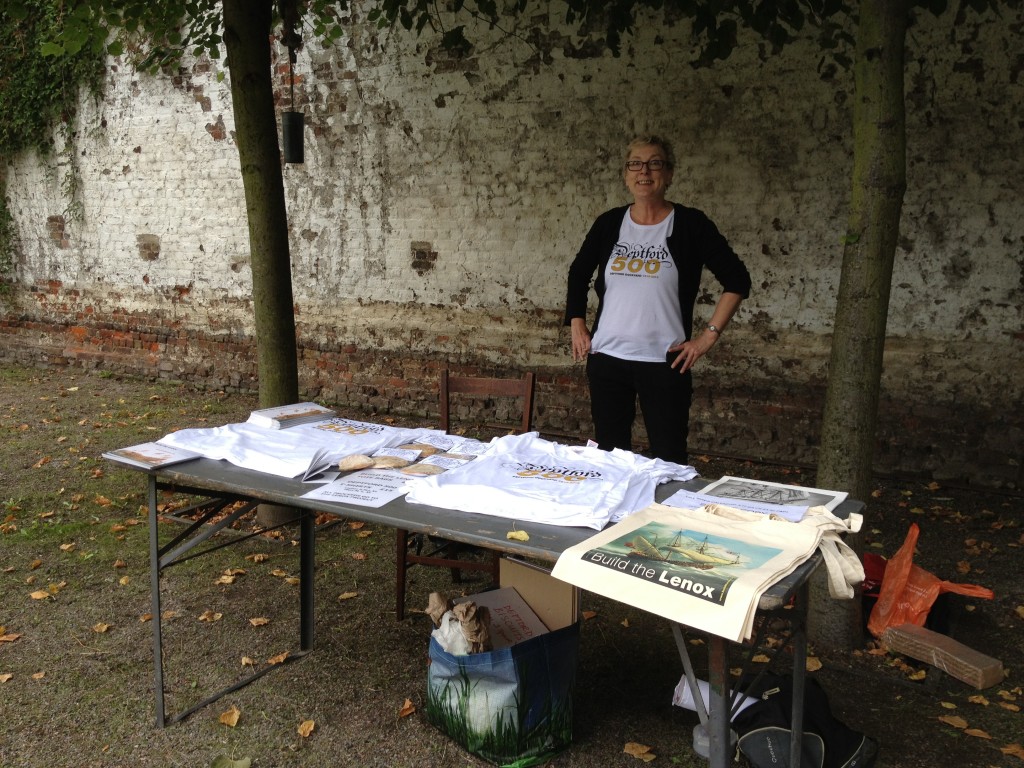 A group of re-enactors from the Isle of Wight kept us entertained all day on Saturday by firing their cannon and guns, and generally seeming to enjoy the setting. They had a bit of a photo shoot too, making use of the very picturesque setting.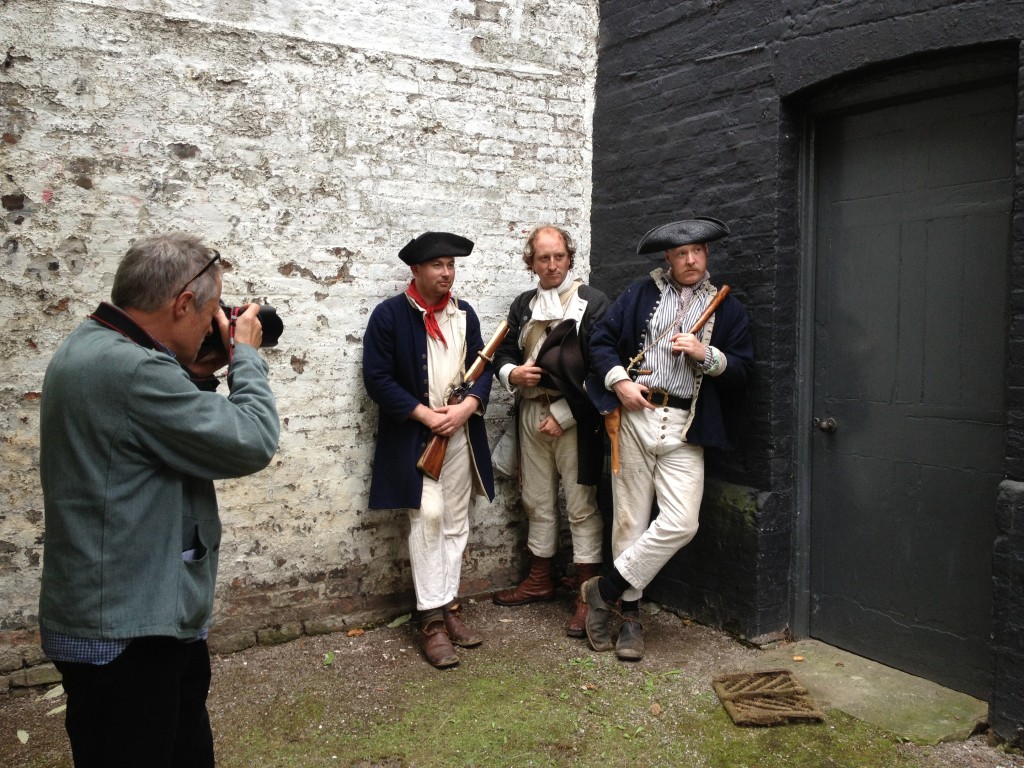 Guest of honour was Samuel Pepys, who vented his spleen during our press conference at the potential loss of the dockyard, and stated his opinion most forcefully that Britain needed the Lenox to be built. We were also honoured by a special appearance by Horrible Histories actors Ben Willbond and Larry Rickard, seen below, modelling our merchandise!
Thank you to everyone who came, all those who helped out behind the scenes, all the other artists, crafts people, musicians, historians and other professionals and individuals who gave their own time and money to make this such a success.
We had a fantastic time, and hope that you did too!
Please follow and like us: