The Lenox Project is taking part in the New Cross & Deptford Free Film Festival, supported by funding from Tideway, showing a swashbuckling adventure film that sets the historic context for the construction of Charles II's thirty ships.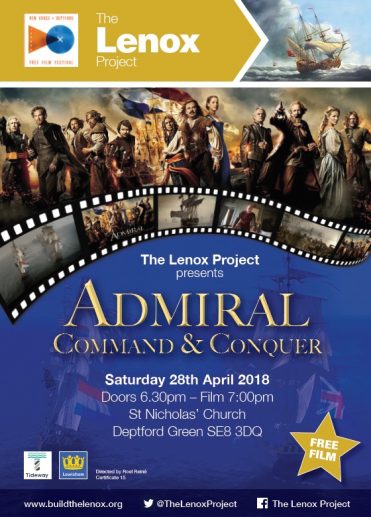 It is a beautifully-filmed adventure movie recounting the life of Dutch Admiral Michiel De Ruyter (Frank Lammers) from the 1653 start of the Anglo-Dutch wars to 1678, (the year Lenox was launched), via the unification of the provinces and birth of the fledgling republic.
It features spectacular and bloody sea battles with plenty of impressive wooden warships, as well as intimate scenes which are skilfully portrayed in the style of a Dutch Masters painting. In the atmospheric opening scene, the congregation in the church in the sand dunes at Huisduinen are terrified by the cannon-fire of the nearby battle of Scheveningen. Cast includes Charles Dance (King Charles II) and Rutger Hauer (Maarten Tromp).
Enjoy this unrecognised masterpiece in Deptford's own dockyard church, a stone's throw from where wooden ships of this era were built, and learn about the historic events that prompted Charles II to lobby for construction of a new fleet of warships, the first of which was the Lenox.
The event is sponsored by Tideway and the programme starts with a short film about The Lenox Project. Full details of the festival are available on the NXDFFF website.
Saturday 28th April
St Nicholas' Church, Deptford Green, SE8 3DQ
Doors open: 6.30pm. Programme starts: 7pm.
Free entry. Refreshments and merchandise will be on sale.
Please follow and like us: