We're delighted to announce that our bid for funding for outreach to local schools in Deptford has successfully passed the first stage of the Evelyn Assembly application process. We will be presenting our plans to the Evelyn Assembly on Saturday 21st January, and inviting residents to vote for us!
We want funding so we can train young people aged 16-18 as our 'young explainers', giving them the skills to go into primary schools in supervised sessions to teach younger children about Deptford's maritime history.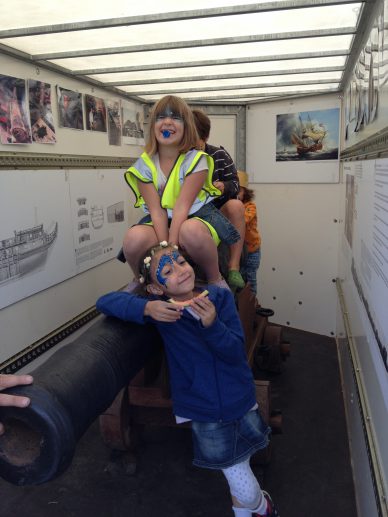 We absolutely love this idea because it would enable us to reach two different age groups in a single hit, and also because it is not just about bringing history to life, it will also deliver valuable training, skills and experience to young people, which could assist them in getting a job or moving into further education.
Our plan is to recruit 20 volunteers from local secondary schools and youth programmes, and train them through a series of workshops to deliver the outreach. They would also develop the ideas and materials needed for the primary school sessions.
We intend to deliver these sessions to four primary schools in Evelyn Ward:
Deptford Park
Sir Francis Drake
Grinling Gibbons
St Joseph's
The Lenox Project has teamed up with local company Refinery Productions, which organises the annual science festival Smashfest UK, at the Albany, to bid for the funding. If we are successful, Refinery Productions will deliver the training and outreach through its own well-established 'young explainers' programme – so we will also be providing employment to local people and supporting a local business. Refinery Productions already works with all these local schools so has the contacts and arrangements in place to assist in setting up the sessions.
Anyone who lives, works or studies in Evelyn Ward, and who is 14 or over, is eligible to vote. Not sure if you're in Evelyn Ward? Click here to see a map of the ward boundaries.
If you are eligible to vote please come along to the assembly before 12.45 – you need to allow enough time to find out about all the projects that are competing for funds, and enough time to cast your vote.
Evelyn Assembly takes place at the Lewington Centre, 9 Eugenia Road, SE16 2RU
Saturday 21st January, 12-2pm
Nearest stations: South Bermondsey/Surrey Quays
Download the flyer here.
Please follow and like us: