We have some fantastic new t-shirts now available to help our fund-raising efforts, thanks to the designs created by Lush Designs in Deptford.
These t-shirts are exclusive to The Lenox Project and can be bought online for just £15 which includes second class postage within the UK. All proceeds from your purchase go directly towards covering our costs – printing flyers, updating our exhibition boards, paying our hosting costs and so on.
The design is printed on 100% cotton Fruit of the Loom t-shirts in 'lady fit' and regular unisex cuts. Ladies sizes are S (10-12 UK size), M (12-14 UK size), L (14-16 UK size) and XL (16-18 UK size). We also have unisex in S (40″ chest), M (42″ chest), L (44″ chest) and XL (46″ chest).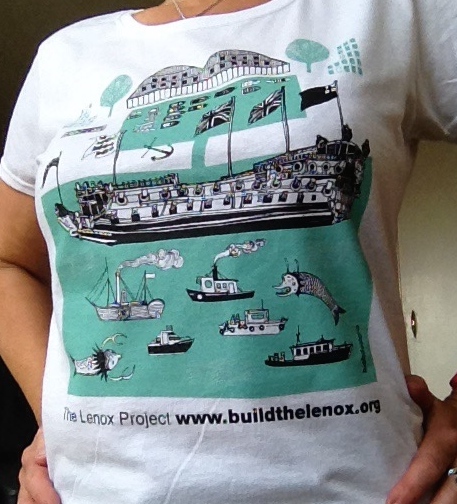 How to order
Please email buildthelenox@gmail.com with details of your order (number, type and size) and mailing address for delivery. Please also state how you wish to pay – by Paypal (we will then send an invoice to your email address), cheque or bank transfer.
Please follow and like us: