The Restoration period saw significant developments in naval architecture and warship design. Charles II's fleet comprised some of the most beautiful and graceful warships ever built; powerful vessels that were a unique combination of extraordinary craftsmanship and technological innovation, qualities that can be attributed to the skills of shipwrights and naval administrators of the era.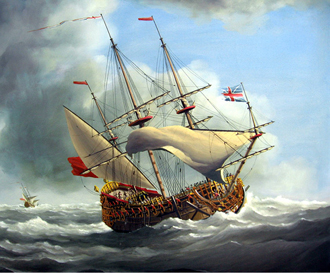 The 70-gun third-rate Lenox represented the pinnacle of Restoration shipbuilding practice. Lenox was the first of the thirty-ship programme of 1677 to be built. By 1700, these magnificent and successful vessels were responsible for the Royal Navy becoming the world's leading maritime power.
The lessons of the Dutch Wars, which ended in 1674, were incorporated into Lenox's design. The third-rate, two-decker warship had already established itself as the most cost-effective vessel to fight in the recently introduced line of battle. It sailed better than the three decker first- and second-rate ships, yet it was strong enough to carry a heavy battery of guns on its lower gun deck.

Construction of Lenox started on 25th June 1677 and she was launched ten months later on 12 April 1678, a testimony to the 120 men and the Master Shipwright, John Shish, who built her. Because she was the first ship, she received an enormous amount of attention and was recorded in great detail. These include her actual dimensions, measured by Shish, the official dimension specification and the scantling list – the length, width and breadth of every individual timber.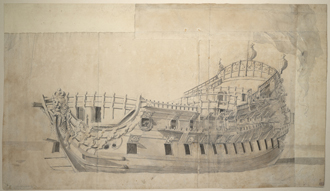 There are draughts of a sister ship and recordings of other ships lines which were drawn by Edmund Dummer while they were being built. The building list, a record of the type, quantity or number, size and cost of everything that went into her still exists, including the wages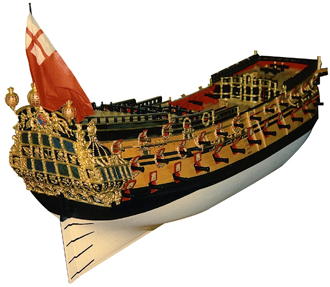 earned by all the tradesmen. Shish wrote weekly progress reports about Lenox as he built her and these also survive. Finally there is a series of architectural drawings made by the best marine draughtsman who ever lived; Willem van de Velde the Elder.
Such comprehensive source material was central to a twenty-year-long study by Richard Endsor, who recorded the complete history of Lenox in his book, Restoration Warship.
Lenox fought in two major fleet actions – the Battle of Beachy Head and Barfleur-LaHogue – and she survived until November 1699 when as a worn-out ship she returned once again to Deptford to be rebuilt.