The proposal to build a replica of the Lenox was partly inspired by a similar project in France which has been under way for more than a decade. This project, to build a replica of the 18th century frigate Hermione, has now reached a crucial stage with the completed hull being revealed to the open air with the removal of the covers, and the dry dock where she was built being filled with water ready for the hull to be launched in July this year.
The town of Rochefort where the ship is being built is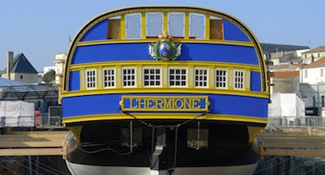 planning three days of festivities built around this event, which is sure to bring even more tourists to the area. For more information visit the Rochefort town council website.
Please follow and like us: